Additional information
| | |
| --- | --- |
| Product series | |
| Servicenr | 7800905e3897 |
Request a quote
BT order picking trucks are equipped with a fully suspended floor plate. This feature, combined with a robust backrest, provides vibration dampening and extra comfort for the operator. The machines are equipped with the advanced BT Powerdrive system, which allows individual adjustment of driving performance.
Toyota BT's range of low-lift order pickers is primarily designed for floor and second-level order picking, especially for products such as Fast Moving Consumer Goods (FMCG). Such order picking processes can be very demanding, sometimes involving picking up to 5 standard roll cages in one route. Various tools are available for these retail processes. These include the T-mote part automation solution. With this solution, the user can walk alongside the truck and collect orders, while the truck can move forward by remote control without a person having to stand on it!
Depending on the specific order picking processes, different solutions are available to strike the right balance between productivity, ergonomics and safety. There are models with cantilevered forks for picking multilayer pallets, machines with a lifting platform allowing the operator to pick goods on the second level up to a height of 2.8 metres, as well as high-lift forks so that the operator can always store goods at an ergonomic height during picking. With capacities of up to 2500 kg and fork lengths of up to 3375 mm, multiple orders for different customers can be picked at the same time, enabling high efficiency.
Standard features in the design include a holder for shrink-wrap rolls, power steering, a cushioned platform and options to attach various accessories and WMS equipment to the truck. There are also battery exchange options for multi-shift operations and the use of long-lasting Li-Ion batteries, so that even in continuous operation these powerful trucks are not a problem.
For further discussion of options for your specific situation, please contact Prince Holland!
E-man steering system
Allows the operator to move the steering column to either side of the central position, allowing the operator to move the truck backwards/forwards while walking beside the truck. A steering guard protects the operator when the truck is not in the normal operating position.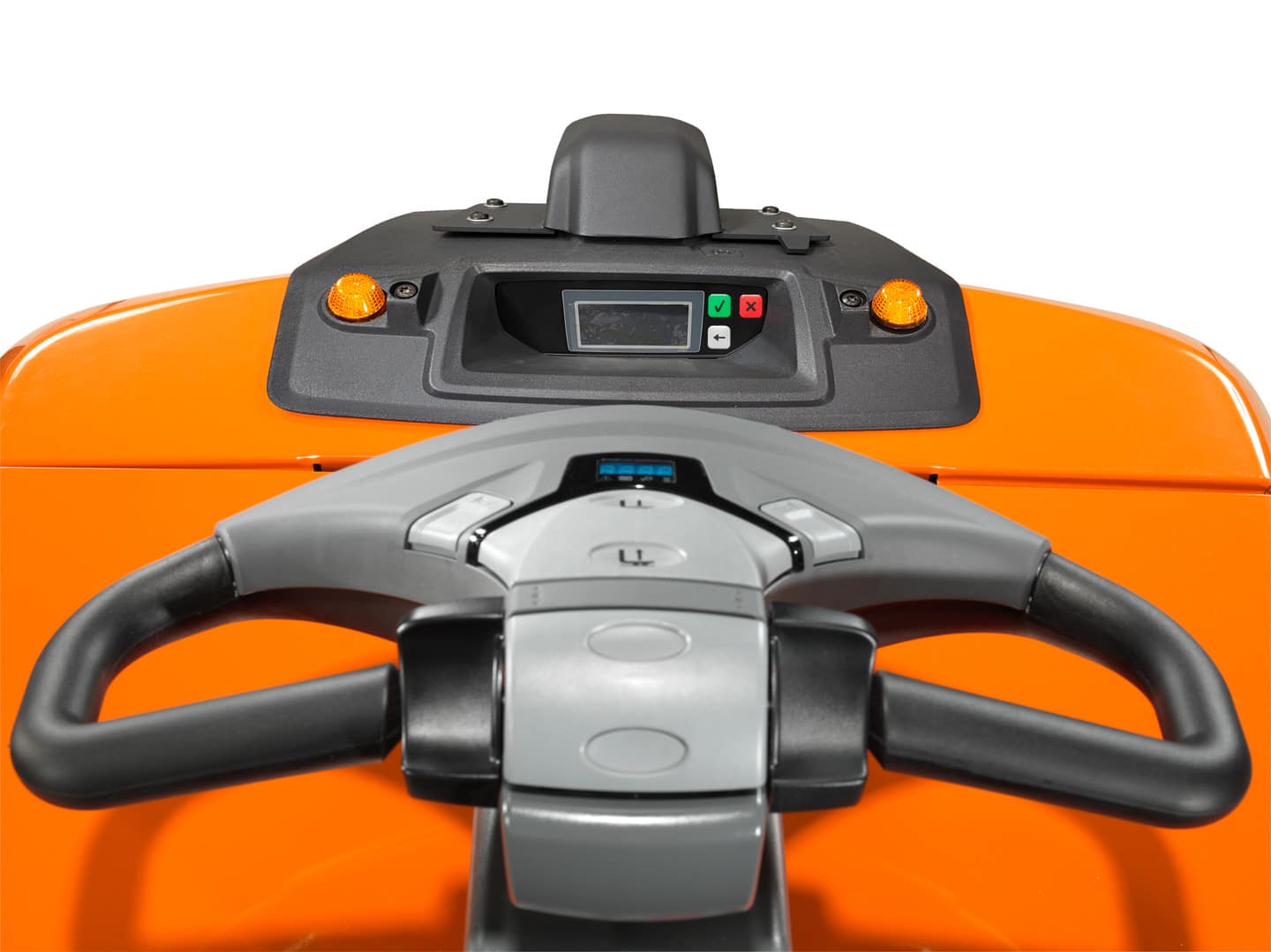 Optimised truck performance
Reduces speed when the drive wheel angle exceeds 25° or when there is load on the forks, reducing the risk of accidents and damaged goods.