Additional information
| | |
| --- | --- |
| Product series | |
| Model | |
| Lifting capacity | 1000KG |
| Lifting height | |
| battery capacity | |
| Servicenr | 3c8dbc1825af |
Request a quote
The BT SHE100 is an entry-level pedestrian stacker designed from the ground up with the benefits of Li-Ion technology in mind. By focusing on Li-Ion during development, this pedestrian stacker is as compact as a manually driven stacker, but with the advantages of electric driving and lifting!
With a capacity of 1000 kg and lift heights of up to 3600 mm, the truck is well suited for light-intensity applications. From a practical point of view, this model is perfect for warehouses in shops and for entry-level operators. In the world of E-commerce, this versatile stacker can also be used at a low cost.
The low weight combined with the impressive lifting height makes this stacker attractive for companies working on storey floors. These floors often have weight restrictions for moving machinery.
To work effectively even in confined spaces, the truck can be operated with the steering arm raised thanks to the standard crawl speed button. The pedestrian stacker can be charged anywhere via the built-in charger. Moreover, Li-Ion batteries offer the possibility of interim charging without battery damage.
The modern development of this pedestrian stacker is visible in its design, such as the standard built-in dual USB charging port for charging mobile phones or tablets...;
Easy charging
With the 60Ah lithium-ion battery and the 25A charger, charging the battery takes about 2.5 hours. The charger is built into the truck for easy connection to a wall socket.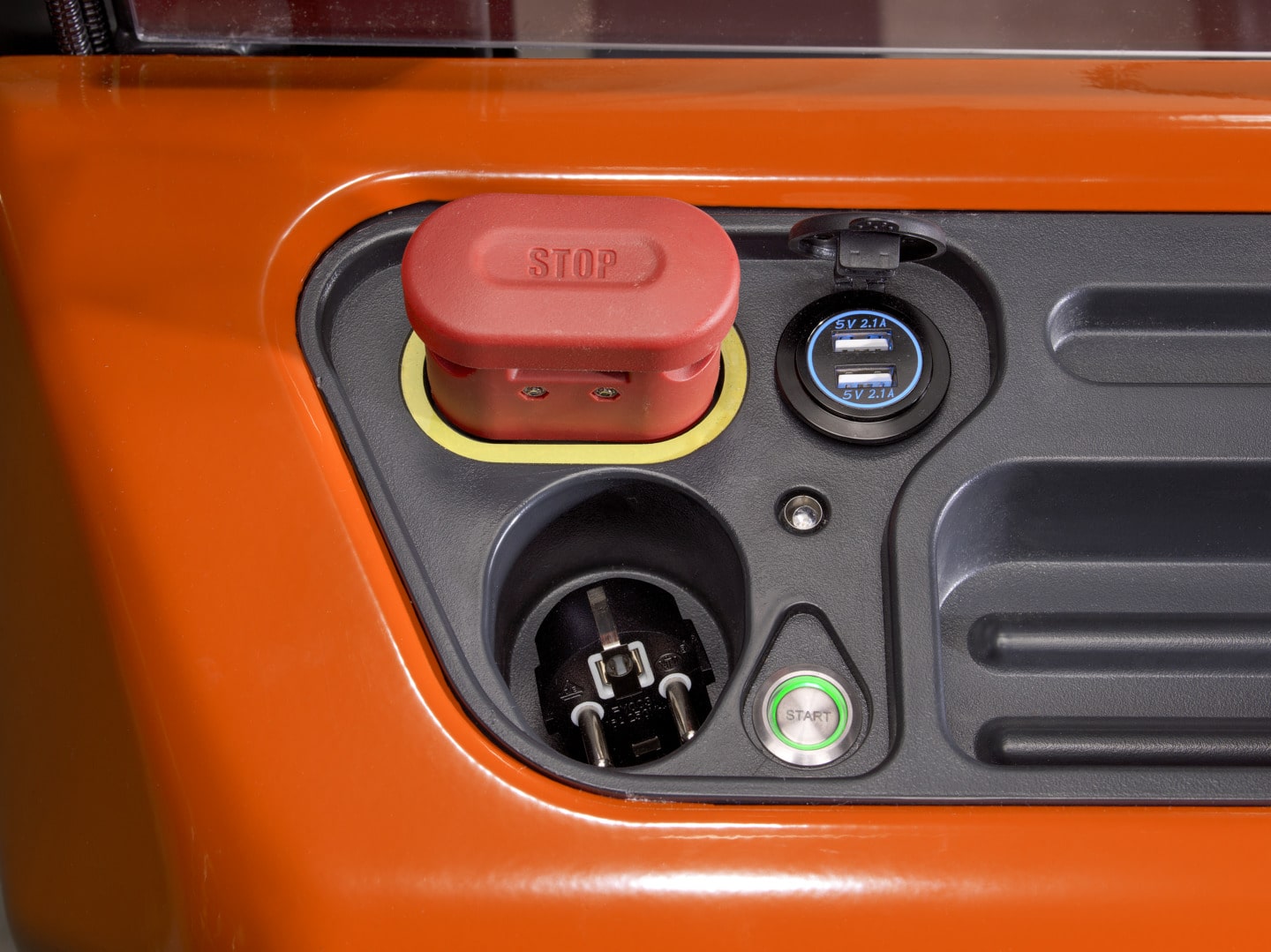 Smart design
The top panel has space for small items and room for a cup. A large compartment for documents is available at the front of the main cover.
| Product series | Model | Lifting capacity | Battery capacity | Lifting height |
| --- | --- | --- | --- | --- |